Tuesday Jul 19, 2022
Bridging the Gap: Video and Creative Potential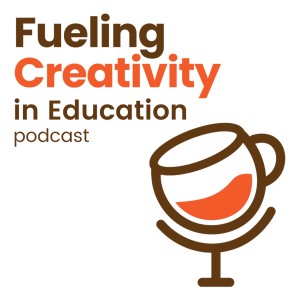 In this debrief episode, Dr. Cyndi Burnett and Dr. Matthew Worwood reflect on the first five episodes of Season 4. Cyndi revisits creative potential and the value of integrating student interests into the learning experience. At the same time, Matthew discusses expression preferences and the ability to know when to use and not use computer algorithms to support the creative process. Cyndi and Matthew also take time to reflect on the different ways they've both used video to engage their children in creative production.
If you haven't listened to all five episodes of Season 4 (+ the BONUS episode), check out the links below to go back and listen, so you don't miss out on any golden nuggets of wisdom! Then, share your favorite episode with a colleague, parent, friend, or anyone else who could benefit from the show's information. 
Matt's Insights
Expression preferences: We all like to express our creativity through different outlets. How many opportunities do you give your students to do that?

The "future creative" is someone who knows when to use the algorithm and when to turn it off.  

Each of us has a unique creative potential. How can you find that in your students and help them act on it? (hint: Personal Interest Projects!)
Cynthia's Insights 
There are significant benefits to using digital innovation, like YouTube videos, to demonstrate problem-solving and creativity skills.

Creative potential: Look for things that differentiate your students and find ways to showcase and/or nurture that creative potential.

Give your students resources and tools that encourage exploration and development of their personal interests, like Personal Interest Projects. 
Go back and listen to Season 4:
Listen to S4 Episode 1 with Mark Runco
Listen to S4 Episode 2 with Frances Valintine
Listen to S4 Episode 3 with Carrington Faulk
Listen to S4 Episode 4 with Dr. Elizabeth Radday
Listen to S4 Episode 5 with Dr. Joseph Renzulli
Listen to the S4 BONUS Episode: Parenting for Creativity
Watch different video examples on the DadsforCreativity YouTube channel and review some easy video projects quickly enacted at home. 
Eager to bring more creativity into your home or classroom? 
Access a variety of creativity resources and tools & listen to more episodes of The Fueling Creativity in Education Podcast by visiting our website,  www.CreativityandEducation.com.
Subscribe to our monthly newsletter!
Have a question? Email Dr. Burnett and Dr. Worwood at questions@fuelingcreativitypodcast.com!
You can also find The Fueling Creativity in Education Podcast on Apple Podcasts, Spotify, Audible, and PodBean! Make sure to rate, review, and share the podcast if you enjoy it!