Tuesday Jan 03, 2023
BRIDGING THE GAP: Reflecting on the Creativity topics of 2022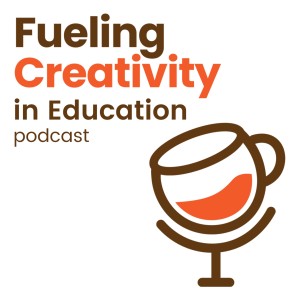 Fueling Creativity in Education – 2022 Reflections
Happy New Year! With 52 episodes produced and 29 creativity experts interviewed in this past year, the Fueling Creativity in Education Podcast has generated countless insights that are transforming the way we approach creativity in education. 
In this special first episode of 2023, Dr. Cyndi Burnett and Dr. Matthew Worwood reflect on five of their favorite insights from 2022 and share their top tips for bringing creativity into your classroom or home in 2023.
Tune in to hear Matt and Cyndi's top 5 and stay tuned for Season 6!
What is YOUR favorite insight or tip from the Fueling Creativity in Education Podcast in 2022? 
Let us know! Email us at questions@fuelingcreativitypodcast.com!
Subscribe to our monthly newsletter!
Eager to bring more creativity into your home or classroom? 
Access various creativity resources and tools & listen to more episodes of The Fueling Creativity in Education Podcast by visiting www.CreativityandEducation.com.
What to learn more about Design Thinking in Education? 
Do you want to build a sustained culture of innovation and creativity at your school?  Visit WorwoodClassroom.com to learn how Design Thinking can promote teacher creativity and support professional growth in the classroom. 
To keep us growing, give us a rating/review and share the podcast with a friend or colleague if you enjoy it! You can find The Fueling Creativity in Education Podcast on Apple Podcasts, Spotify, Audible, and PodBean. 
Here's a sneak peek into their top insights of 2022:
Artificial intelligence plays a key role in the future of creativity and we're coming to a place where anyone and everyone can use AI. AI could likely be as disruptive as the worldwide web and the creation of the personal computer!

Robots and AI can help facilitate better learning experiences for students while supporting educators who need help in unique and various ways.

Whenever we go about something new, we need to first ask questions about the system.

Think about yourself as an ancestor. How can we be better ancestors for our kids and the world at large?

The conversations that develop from the question "What's your favorite failure?" can be game-changing for children's learning experiences.
Episodes & Other Resources Mentioned:
Listen to the episode with David Cropley
Listen to Part 1 with Patrícia Alves-OliveiraListen to Part 2 with Patrícia Alves-OliveiraListen to the episode with Michael Hanchett Hanson
Listen to the episode with Jonathan Plucker
Listen to the episode with Dr. Victoria E. Waller
Listen to the episode with Frances Valintine 
Listen to the episode with Bea Leiderman
Listen to the episode with Genein Letford