Wednesday Aug 03, 2022
CREATIVITY TIP: Shifting Perspectives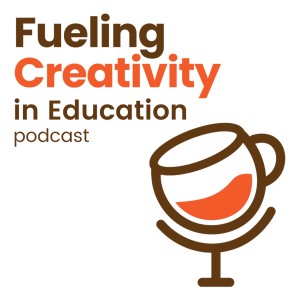 In this short Creativity Tip episode, Dr. Cyndi Burnett and Dr. Matthew Worwood offer advice on how to highlight the importance of perspective shifting when engaging students creatively in the classroom. Matthew shares an exercise he experienced during his graduate program that helped him realize the challenge of assuming the perspective of others. Cyndi introduces how stories can offer different perspectives, such as the perspective of an individual perceived by others as the villain of the story. 
Interested in more tips to help bring creativity into the classroom?  Check out Cyndi's Books, Weaving Creativity into Every Strand of Your Curriculum, and 20 Lessons to Weave Creativity into Your Classroom.
Episodes related to Shifting Perspectives:
Listen to the episode with Monica Kang
Listen to the episode with Genein Letford
Eager to bring more Creativity into your home or classroom? 
Access a variety of creativity resources and tools & listen to more episodes of The Fueling Creativity Podcast by visiting our website: www.CreativityandEducation.com 
You can also find The Fueling Creativity Podcast on Apple Podcasts, Spotify, Audible, and PodBean! Make sure to rate, review, and share the podcast if you enjoy it!
Comments
(1)
To leave or reply to comments, please download free Podbean or

I alway gain insight and inspiration from listening to Drs. Burnett and Worwood talk with each other and with their guests. Though I have been a teacher for (gulp) 30 years, I still aspire to hone my pedagogy to make it even more effective. Learning from and with these creativity scholars is one of the highlights of my week!