Tuesday Jan 17, 2023
THROW BACK: Teachers as Designers with KC Lathrop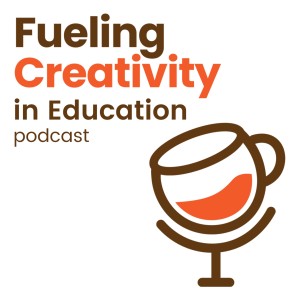 How do you go from teaching to designing? In this episode of the Fueling Creativity podcast, Dr. Cyndi Burnett and Dr. Matthew Worwood revisit their discussion with creator, educator, and former IBM designer, KC Lathrop.
As a former teacher turned designer, KC works to empower people to go against societal norms, change careers, start over, start again, learn anything they want, and follow all creative desires.
Tune in to learn about her transition from educator to full-time designer at IBM, the similarities between teaching and design professions, and how her administrative role allows her to be creative in new ways. She also describes the fascinating 100 of Making practice and how it nurtures her creativity, design, innovation, and even mental health.
"I kind of think about creativity in support your mental health. I think it's almost the same idea as going to the gym every day for your physical health. To me, maintaining a creative practice is one of the ways that I maintain my mental health." - KC Lathrop
KC's Tips for Teachers and Parents:
Take every lesson you teach as a new opportunity to learn something for yourself. Not every class is going to be the best class you've ever taught.
A part of learning is being vulnerable. If you want your students to be vulnerable, you also need to be vulnerable with them.
Meet people where they are. No matter how much experience you have, there's always space for learning and growing.
About KC Lathrop:
KC Lathrop is a designer, creator, and educator. She currently works in strategy and operations for IBM's IT department. KC started at IBM as a User Experience Designer 5 years ago while getting her master's degree from New York University's Interactive Telecommunications Program (ITP). During her time at NYU, KC enrolled in the class 100 days of making, which she ended up teaching the following year. As a former teacher turned designer, she works to empower people to go against societal norms, change careers, start over, start again, learn anything you want and follow all creative desires. KC currently lives in Brooklyn, NY with her adorable dog, Waffles.
Want to learn more about the concept of Teachers as Designers? 
Read and watch how the concept of Teacher Creativity and Design Thinking can increase teacher agency using new technology, help build a culture of innovation, and support diversity and inclusion and social-emotional learning at your school. Visit WorwoodClassroom.com.
Eager to bring more creativity into your home or classroom?
Access a variety of creativity resources and tools & listen to more episodes of The Fueling Creativity Podcast by visiting our website,  CreativityandEducation.com.
Subscribe to our monthly newsletter!
Follow Cyndi and Matt on Linkedin!
You can also find The Fueling Creativity Podcast on Apple Podcasts, Spotify, Audible, and PodBean! Make sure to rate, review, and share the podcast if you enjoy it!