Tuesday May 03, 2022
Bridging the Gap: Discussing Innovation v Creativity v Entrepreneurship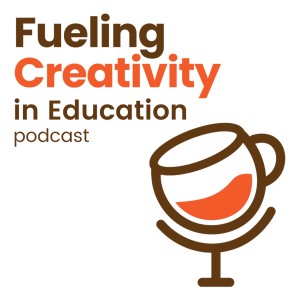 What were the biggest lessons learned during the last five episodes in Season Three of the Fueling Creativity podcast? In this final debrief, Dr. Cyndi Burnett and Dr. Matthew Worwood sit down and reflect on episodes that discussed the relationship between Innovation, Creativity, Entrepreneurship, breaking with habit-bound thinking, developing a sense of awe in students, and Inward and Outward Creativity.
Listen in as Cyndi and Matthew break down the following insights.
Major Takeaways from Season Two, Episodes 6-10:
Innovation, Creativity, and Entrepreneurship. What's the connection? Do different groups have increased value for one over the other? Or are we discussing similar things in a different context?
 A sense of awe in students.

Awe is a sense of considerable astonishment in a person or topic. How might teachers facilitate awe toward the curriculum or subject? Should that be an ambition for creative teachers? 

Inward and Outward Creativity. 

 Sociocultural theory informs us that the actor engages in internal and external actions that include thoughts, ideas, and reactions in response to an environment. How do internal actions interact with other people inside a classroom environment? Does a sense of connection drive these actions, and is arts a bridge between inward and outward Creativity?
Resources Mentioned:
Listen to the episode with Anna Abraham
Listen to the episode with Monica Kang
Listen to the episode with Rachelle Archer
Eager to bring more Creativity into your home or classroom? 
Access a variety of creativity resources and tools & listen to more episodes of The Fueling Creativity Podcast by visiting our website: www.CreativityandEducation.com 
You can also find The Fueling Creativity Podcast on Apple Podcasts, Spotify, Audible, and PodBean! Make sure to rate, review, and share the podcast if you enjoy it!